Introducing SolderM8
The electrician's ultimate companion for soldering LEDs.
This award-winning, innovative gadget is specifically designed to simplify the soldering process for LED strip lights, making it a breeze for even the most inexperienced apprentice to master in no time.
SolderM8 offers a high-quality, durable finish on full lengths of LED strips, significantly reducing the time spent on each job. By cutting costs and increasing efficiency, SolderM8 is quickly becoming an indispensable tool in every professional electrician's toolbox.
Featuring a versatile design, the device's magic underside adheres to both flat and textured surfaces at any angle, even when upside down. Simply insert the wires, and SolderM8 will hold them securely in place as you apply the solder. With quick, clean, and easy operation, you'll swiftly move from one joint to the next, boosting your productivity and profits.
Upgrade your soldering game with SolderM8, and experience the difference it makes in your LED strip light projects.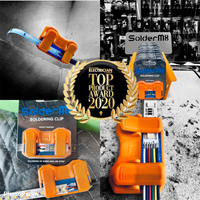 Testimonials
"I have saved so much time with this little device! It has paid for itself many times over"

Tony Nguyen, Electrician
Seamus Riley, Electrician
"The wire was too short to reach the counter top. I tried out SolderM8 and instantly it was  like I had an extra pair of hands"

Vincent Argill, Electrician